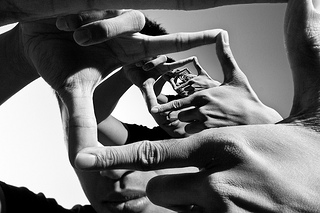 Down through the dusty annals of antiquity comes the whisper of wisdom to any writer bold enough to listen: "Without vision, the people perish."
Or, as I like to say, "Without vision, publishers will run for the hills."
You've come up with a concept, crafted a bio, and developed a working title and subtitle. Now it's time to go deeper with a brief description of your book.
The brief description is where you cast the vision for your book. The working title begins to do this, and hopefully it's compelling enough for an editor to turn the page. Once she does, what vision will she see? If it's compelling, you've got a solid chance of getting published. If not, well, not.
Brief setup: In December 2012 I started a series of posts on how to write a book proposal. I got two posts in before realizing the series would be far more helpful to folks if I actually coached a writer through the process of crafting a book proposal. After a brief contest of sorts I decided to work with Gary Neal Hansen. My strong hope is that others will be working on their book proposals as I coach Gary through this process. So far I've posted about motivation, concept, bio, platform, and working title.
You may want to include a one-sentence summary before the brief description, and agent Rachelle Gardner did a fine post on this.
The brief description is a three- to five-paragraph summary of your book as a whole, including:
its purpose,
targeted readership,
anticipated length, and
an ETA for the complete manuscript
Obviously you could simply write these like a robot . . .
Purpose: to change the world
Targeted readership: people
Anticipated length: 50,000 words
ETA: In six months
You might chuckle at this, but I promise I have seen proposals that are just this . . . uninspired.
Reading is nothing if not an experience. Your brief description is casting a vision for the kind of experience readers will have when they read your book. This is also likely the first place an editor will be exposed to your writing style. In other words, the brief description is your first writing sample.
See why it's important?
Following is Gary Neal's brief description:
One for the World: How Christian Community Has Been (and Can Be) a Catalyst for Mission looks at six historic movements, each of which had a distinctive way of living in Christian community. In every case their community life blossomed into service and mission that changed the world. In every case there are priorities, practices, and other elements for today's churches and fellowships to make use of to deepen relationship with God and neighbor, and to empower participation in God's work.  The movements span 1500 years and have a broad ecumenical range: Benedictine monasticism, the Beguines of the Middle Ages, Reformation-era Reformed Protestants, the Moravian Pietists of Herrnhut, the early Methodists under John Wesley, and the more recent Christian Base Communities of Latin America. Their own lives were changed by the ways they drew close to God and to each other. In the process they developed compassion for God's beloved world and the skills to reach out to it.

The theological taproot of the book is Jesus' prayer in John 17.  Jesus prays that the church would be as united as Christ and his heavenly Father–an extraordinary standard for Christian community, since Jesus describes himself and his Father as virtually one through a kind of mutual indwelling.  And he prays that his followers, by virtue of being one, would serve his purposes in reaching the world with the Gospel–which is radically countercultural in a day when community is often measured by the private feelings of the community's own members.

Each of the six chapters of the 53,000 word book tells the story of one group and its impact, examining the practices and norms that created its unique ethos and quality of life.  The conclusion looks briefly at six movements from our day that in very different ways seek to create community for depth of discipleship and to catalyze mission. An appendix provides guidance to pastors and small group leaders who want to lead study groups on the book. The aim is to explore history for the sake of finding wisdom for the present, so each chapter also includes tools for individuals and groups to use as they evaluate their present community life and dream a more faithful and more satisfying, more effective future. Rather than encouraging people to reproduce one of the historical movements studied, the book helps readers see their own communities clearly by comparing and contrasting priorities, practices, structures and norms with effective communities from the past. The goal is to develop ways of being community adapted to the 21st century context that deepen a shared life of discipleship.

The target audience is those who want tools to create community life more meaningful than what is offered in their churches; more meaningful because it prompts deeper engagement with God, richer relationships between members, and an engagement with the world that grows from their living of the Gospel life. This includes those in traditional congregations who long for something more in their life together, college students thinking through adult discipleship in the context of para-church fellowships, and those currently developing new communities of faith such as emergent church plants and the New Monasticism. The book has potential in the textbook market as well; I am developing a class which would use this book as its framework, fleshed out with primary sources and other current works.

I am eligible for a year of sabbatical leave, during which I will do the bulk of the writing. However, it is not institutionally convenient for me to take the sabbatical until the 2014-2015 academic year. Therefore the projected date for a completed manuscript is September of 2015.
This is a solid description, no question, and Gary certainly covered all the points a brief description needs to cover. He also exhibits his writing style, which is clear and thorough and theologically precise. All good things.
So, what do you think of the vision he casts? It's not bad, right? I especially love the practical emphasis. If I read Gary's book, he's telling me I will be able to cultivate an outwardly focused community that has a world-changing impact. That's a compelling promise.
One little thing about this sentence: "The goal is to develop ways of being community adapted to the 21st century context that deepen a shared life of discipleship." What I miss here is language to do with mission. Obviously being a disciple of Jesus implies such, but it would be nice to reference it directly here because it's a key part of the book.
A word about the length of Gary's description. I would not necessarily say it's too long, but it could be shorter and might be stronger if it was. At this point in the proposal, you're still trying to prevent the reviewer from stopping for any reason. Some of this material could probably be incorporated into the chapter-by-chapter synopsis. For example, the theological taproot material is likely covered in the introduction of the book. Why not save it for synopsis of the intro?
Let's go deeper into the experience Gary is planning to give the reader. He's planning six chapters and 53,000 words. Assume 5,000 words for ancillary material, and you're at about 7,500 words for each of the six chapters. At 250 to 300 words per printed book page, the chapters will be 25 to 30 pages long. Chapters this long can work for a trade (i.e., nonacademic) audience, especially with headings to break up the content, but it begs the question: What is the most compelling way for a book on this topic to be structured? Assuming the content is malleable (and it may or may not, and if so its malleability is likely not unlimited), what would be the ideal structure?
I tend to think more and shorter chapters would make for a more compelling reading experience. I also think it would be ideal for Gary, eventually within each chapter, to hover around one practical, takeaway theme for each community—one thing from each community that I can begin to incorporate within my own community.
Having just visited the place where Martin Luther King Jr. was assassinated, I wonder if it would be true to history to think of the Civil Rights Movement as a Christian community that changed the world. Having been influenced by the work of John Howard Yoder, I wonder whether a chapter on the Anabaptists would make sense. What about the Quakers? I'm just tossing out possibilities.
I wonder too, Gary, about the place of narrative within the book. We all love a great story. Do you plan to tell some stories of these communities in the book? For example, I can imagine each chapter beginning with a narrative, and you could incorporate them throughout as well.
Finally, I wonder if an added benefit of this book, which Gary may or may not have considered, is its ecumenical value. Protestant readers will be reading about Catholics who have changed the world, and vice versa. That's cool! And it might be worth mentioning this as an added, secondary benefit in the brief description. OK, I might have just made your description longer, having just encouraged you (kind of) to shorten it, but I did give you a way to shorten it too!
In closing let me say this kind of feedback has the potential to drive a writer right up a wall, especially an academic. "He's not an expert on Christian movements," Gary could well think. "I am! Where does he get off telling me to write about more than six movements? That's crazy! That's not historical! That doesn't fit with the paradigm I'm setting up here!" And it's true: Gary has more knowledge in his little pinky about Christian movements than I'll ever have. Here's what I offer: my own sense of what readers are looking for. Could I be wrong? Absolutely. But what kind of editor would I be if I didn't share my best advice about what I think will actually appeal in the marketplace. When I offer this input, I'm doing my best to predict for you what actual readers will find engaging. And if you think that's a risky thing to do, you're absolutely right.
Want to give it a try? Include a brief description of your book (or part of one) in the comments, and then be sure to give input to others who have included theirs. Also, feel free to offer Gary some advice. I know he's grateful for all the feedback he's getting from you.
Bonus Content: The best way to start a nonfiction book project is by writing a book proposal. I'd love to give you a free copy of my Book Proposal Guidelines, used by countless authors to write their book proposals.