As a creative professional and acquisitions editor, I attend numerous conferences a year. I hear a lot of speakers, and I know how powerful a presentation can be. I also know how painful a poor presentation can be.
When I speak, my goal is to be a catalyst for transformation. I want the audience to be both informed and inspired to take the next step on their creative journey. This page will help you decide whether you'd like to start a conversation about having me speak at your event.
 Overview of This Page
What You Can Expect from Me
A Bit about Me
Sample Speaking Clip
Most Requested Topics
Endorsements
Start the Conversation
If you would like to check my availability or if you have questions you'd like to ask before proceeding, you can start the conversation here.
What You Can Expect from Me
When working with me, you can count on:
Prompt responses to emails or phone calls
Honest and reliable communication
A professional and courteous demeanor before, during, and after the presentation
My absolute best effort in preparation for your event
My absolute best effort during the event as I deliver the presentation and interact with your event's participants (for more on this, see my 10 Things Every Public Speaker Should Know)
An honest willingness to hear your feedback following the event
A Bit about Me
I am a speaker, writer, blogger, and creativity coach. I speak regularly on topics such as writing, the creative life, how to write compelling nonfiction, and how to blog a book.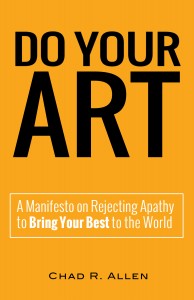 I also serve as an editorial director for Baker Publishing Group, one of the most influential Christian book publishers in the world. I have over fifteen years of experience in the book publishing industry and have worked with such bestselling authors as Dan Allender, Mark Batterson, Rick Bezet, Larry Crabb, Chip Ingram, Alister McGrath, Miles McPherson, Chris Seay, Phyllis Tickle, Emily Wierenga, Warren Wiersbe, and  N. T. Wright.
I am the author of Do Your Art: A Manifesto on Rejecting Apathy to Bring Your Best to the World and have been been blogging since August 2012. I'm married to Alyssa, and we have two young children. We make our home in Grand Rapids, Michigan.
Sample Speaking Clip
Following is a clip from a presentation I delivered at the ReWrite Conference, a writer's conference in Austin, TX. The presentation was titled "You Can Do This: An Editor's Manifesto: How to Stay Motivated and Keep Moving on the Road to Publication."
Most Requested Topics
I speak on topics related to creativity, writing, publishing, and personal development. I am comfortable speaking to multiple types of creative professionals, including writers, designers, managers, and entrepreneurs. I will customize my presentation for your audience and your event's particular needs. I want to help you achieve the outcome you'd like to facilitate for your event. Following are the most requested topics.
You Can Do This! The creative journey is a long road, and we're often tempted to give up. This presentation covers four key areas of practice that make the creative journey sustainable: Decision, Action, Relationships, and Time. These practices help creatives stay committed to their work for the long haul, which is the only way to become a master.
How Your Mental Health Can Reveal Your Inner Genius: None of us has achieved perfect health, so we're all at one place or another on the recovery road. What does our mental health reveal to us about who we are and what we have to offer? This presentation invites us all to incorporate practices that will help us unleash our best work to the world.
10 Keys to Writing Compelling Nonfiction: What makes the difference between okay prose and prose that grabs readers' attention and won't let go? Based on over 15 years of editorial experience, this nuts-and-bolts presentation delivers ten principles that help nonfiction writers craft the most compelling prose possible. Some of the principles include Kill Verbosity, Get Naked, and Be Concrete.
How to Blog a Bestselling Book: We live in an unprecedented era when writers can write and build their platforms all at the same time. This presentation introduces attendees to authors who have blogged bestsellers and provides a process for following in their footsteps. From developing a concept to blogging content to building a platform, this talk will equip writers to blog a book that sells.
Other Topics: If you have another idea on which you'd like me to present, let's talk. I would be happy to develop a new presentation for your event.
Endorsements
"Weeks after Chad spoke to my International Team, I'm still getting rave reviews. My leaders keep thanking me for the incredible value add Chad brought and the paradoxical spirit in which he communicated—a unique blend of authentic humility and bold expertise." —Dr. Kary Oberbrunner, Founder of Redeem the Day and Igniting Souls, author of Day Job to Dream Job, The Deeper Path, and Your Secret Name
"Chad has the unique ability to connect with any audience. He has a passion to help aspiring creatives pursue their art. In his speaking, he always delivers practical solutions to complex problems. Schedule him for your next event! You'll be glad you did."—Jonathan Milligan, author, blogger, speaker, and career coach
"With a heart for helping people develop and foster their creativity, Chad Allen is an amazing and effective speaker, teacher, and leader. His messages are based on valuable and relevant information that greatly benefit audiences. I have gained so much from listening to Chad speak. His words are both informative and encouraging, and are always presented in the most engaging way." —Esther Fedorkevich, Founder of The Fedd Agency, Inc.
"When Chad Allen speaks, people would do well to listen. I was delighted when Chad agreed to speak at the Jot Writers Conference, both because I knew that the attendees would leave inspired and selfishly because I knew I would be blessed as well. He goes a step beyond explaining the value of a creative community. Due to his genuine delivery and encouraging approach, listeners will feel like they are part of his community. I would have Chad back to speak at Jot as often as he wants to come."—Josh Mosey, co-founder of the Jot Writers Conference
"Chad's presentation was fabulous. More than a few people mentioned on the evaluations that they thought his was the best of the day. I just cannot express how grateful I am to have had him participate."—Morgan Jarema, Kent District Library Communications Assistant
Start the Conversation